Wiebke Schäfer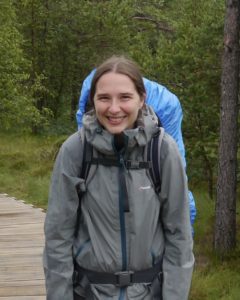 Wiebke Schäfer
Ph.D. student
Lehrstuhl für Endogene Geodynamik (Prof. Dr. Haase)
Schloßgarten 5
91054 Erlangen
+49 9131 85-26068

Project title: Immiscible sulphide liquid: insights into fractionation processes of chalcophile elements in oceanic crust.
Magmatic sulphides form from a segregated sulphide liquid, influencing the distribution of chalcophile trace elements (e.g., Co, Ni, Cu, Se, Ag, Te, PGE, Au, Bi) in the magma. It has already been discovered that magmatic sulphides from island arcs, back-arc basins and mid-ocean ridges differ chemically and mineralogically from each other, however, it is not yet understood which processes are responsible for the systematic differences.
In this project, we investigate how different factors (e.g., temperature, pressure and oxygen fugacity) influence the distribution of chalcophile trace elements. For this purpose, analyses of magmatic sulphides from drilling cores of the ODP and IODP cruises, collected seafloor samples of the SONNE cruises and samples of ancient oceanic crust (e.g., Troodos ophiolite) are performed. These samples cover the entire spectrum from peridotites to gabbros and sheeted dykes to young lavas, allowing the development of a model for the cycling of chalcophile elements throughout the oceanic lithosphere.
Methods:
Major elements:      EPMA
Trace elements:       LA-ICP-MS (line scans and element maps)