Nils Baumann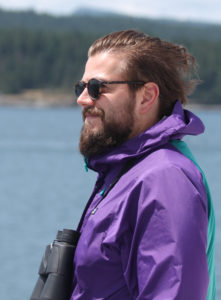 Nils Baumann
Doktorand
Lehrstuhl für Endogene Geodynamik (Prof. Dr. Haase)
Schloßgarten 5
91054 Erlangen
+49 9131 8569601
Project Title:
"Correlating continental flood basalt volcanism, environmental change, and mass extinction events at high resolution using novel geochemical proxies in sediments"
Project Description:
Continental flood basalt volcanism is thought to have played a role in all five of the largest mass extinctions in Earth's history. However, our understanding of how volcanism causes environmental change leading to mass extinction is hampered by difficulty determining the precise timing of these events, which occurred over 10 to 100 thousand-year timescales. Volatile trace elements enriched in volcanic gas injected into the atmosphere during flood basalt volcanism and later deposited in sediments can potentially link these processes at timescales of less than a few tens of thousands of years, beyond the resolution of radiometric dating. We're exploring the potential of a multitude of chalcophile and siderophile trace elements as proxies for past volcanism and its atmospheric input. Therefore, we aim to obtain geochemical profiles of sedimentary successions across the Permian – Triassic and Cretaceous – Paleogene boundaries to link flood basalt volcanism in Siberia and India (Deccan), respectively, with environmental change and mass extinction.
Methods:
Multicollector Inductively Coupled Plasma Mass Spectrometry (MC-ICP-MS)
X-Ray Fluorescence (XRF)
Atomic Fluorescence Spectrometry