Geoscience communicator and social media officer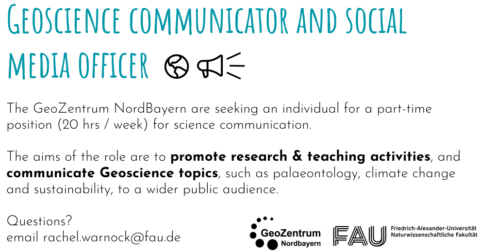 We are seeking an individual for a part-time position (up to 3 years) for science communication at the GeoZentrum NordBayern. We are a multi-disciplinary research institute, focusing on Climate, Geodynamics, Palaeontology and Evolution (CGPE) and Sustainable Energy, Resources and Materials (SERM). The aims of the role are to promote research and teaching activities, as well as communicating Geoscience topics, such as climate change and sustainability, to a wider public audience.
Short term tasks
communicate with staff and students at GeoZentrum about their research
produce visuals and videos
develop and implement a social media strategy and schedule
promote research and teaching activities via our website and social media channels
communicate new publications to a wide audience (including producing short video clips)
contribute to courses on science communication
Long term tasks
collect analytics about engagement via online platforms and outreach
establish links with media outlets (e.g., newspapers, news channels, interacting with the FAU Press Office)
establish links with schools and museums in Bavaria and other bachelor programs across Europe
Desired experience/skills:
Masters or PhD in science (any discipline)
science communication and outreach
video and graphics production
social media management
fluent in English and German (desired but not essential)
Job details:
The position is 50% of an E13 position in Germany (20 hours/week). More info…
The position is available from May 2022. Latest start date October 2022
Application
Please send the following to rachel.warnock@fau.de:
a sample video, blog post or infographic showcasing your work (up to 3). This can be any media/content you have already produced.
cover letter
CV
details of 2 referees
Deadline: 25th February 2022
Interviews will take place at the end of March 2022.
For more information please contact: rachel.warnock@fau.de