Kenneth De Baets
Dr. Kenneth De Baets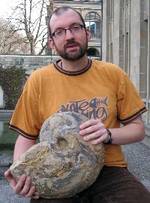 Research
Macroevolutionary patterns during the Devonian Nekton Revolution
Evolutionary history of coevolutionary relationships
Spatial and temporal distribution of Paleozoic diversity and body size
2008: Swiss Palaeontological Society Grant: to participate in the Subcommission on Devonian Stratigraphy and IGCP 499 Devonian Land Sea Interaction Conference and Field trip in Kitab, Uzbekistan
2008: SYNTHESYS Grant: to study evolution of ontogeny and variability in early ammonoids at the Naturkunde Museum, Berlin
2010: VAUZ Grant: to participate in the Annual Palaeontological Society Meeting in Gent
2010: Swiss Paleontological Society Grant: to participate in the 8th International Symposium, Cephalopods – Present and Past in Dijon, France
2012: Swiss National Science Foundation Grant for Prospective Researchers: to work on the coevolutionary history of parasitic flatworms and their hosts
2015: Synthesys Grant: to study parasitic load of fossil coprolites with CT at the Natural History Museum, London
2015: Synthesys Grant: to study pathological fossil cephalopods at the National Museum, Prague
Geologica Belgica (Belgium)
Paläontologische Gesellschaft (Germany)
Palaeontological Association (United Kingdom)
Schweizerische Paläontologische Gesellschaft/Sociéte Paléontologique Suisse (Switzerland)
Society for the Study of Evolution (USA)
Authored Books
Journal Articles
Book Contributions
Miscellaneous
Constraining the deep origin of metazoan parasitism through integration of Evolutionary Parasitology and Molecular Paleobiology


(FAU Funds)

Term: 1. January 2017 - 31. December 2017

Body size dynamics of cephalopods across the Pliensbachian-Toarcian crisis


(Third Party Funds Group – Sub project)

Overall project: Temperature-related stresses as a unifying principle in ancient extinctions (TERSANE)
Term: 1. August 2016 - 31. July 2019
Funding source: DFG / Forschergruppe (FOR)

The reduction of body size within individual lineages is suggested to be one of the most important responses in the face of temperature-related stressors. Despite common suggestions of similar size changes around mass extinction events, the global significance as well as the mechanisms of this Lilliput effect are still controversial. This project aims at understanding the role of warming and associated stressors (anoxia) in driving body size changes of marine organisms in the Early Jurassic (Toarcian) crisis. We focus on cephalopods along a N/S-gradient of western Europe and northwestern Africa to explore patterns of body sizes from individual taxa to entire assemblages. Patterns will be explicitly analysed in the context of sedimentary facies, physico-chemical proxies and physiological predictions to test the correlation of body size with environmental parameters such as temperature, oxygenation and productivity/burial of organic carbon.