We are back! Flügel Courses – September 2022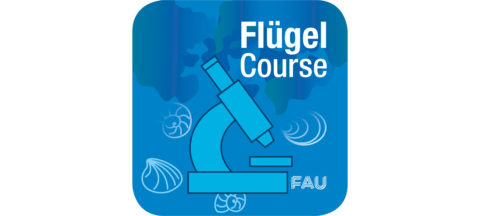 5 – 9th September and 12 – 16th September 2022
Nobody can reliably predict how the pandemic will develop over the next few months, but – thinking positive! – it looks like we can offer two "Flügel-Courses" on carbonate microfacies in September 2022. We are extremely pleased! The courses will take place from September 5th to 9th and from September 12th to 16th, 2022 in Erlangen (Germany). In the next few weeks, the participants who were already registered in 2020/21 but could not take part will be contacted first. The waiting list is then worked through from above until both courses are fully booked. Since a total of three courses had to be cancelled, the list is unfortunately very long. Anyone who does not get a place will automatically remain on the waiting list for 2023. However, we are only allowed to admit participants who can prove that they have been vaccinated against Covid-19 or have recovered. We beg for your understanding. If you want to be included in the list please contact axel.munnecke@fau.de.
More info: https://www.gzn.nat.fau.eu/palaeontologie/outreach/fluegel-courses/

Visit us on Facebook and keep up to date about our activities in the fascination world of carbonate microfacies.