Dr. Emilia Jarochowska and Palaeobiology Master students at Soapbox Science in Munich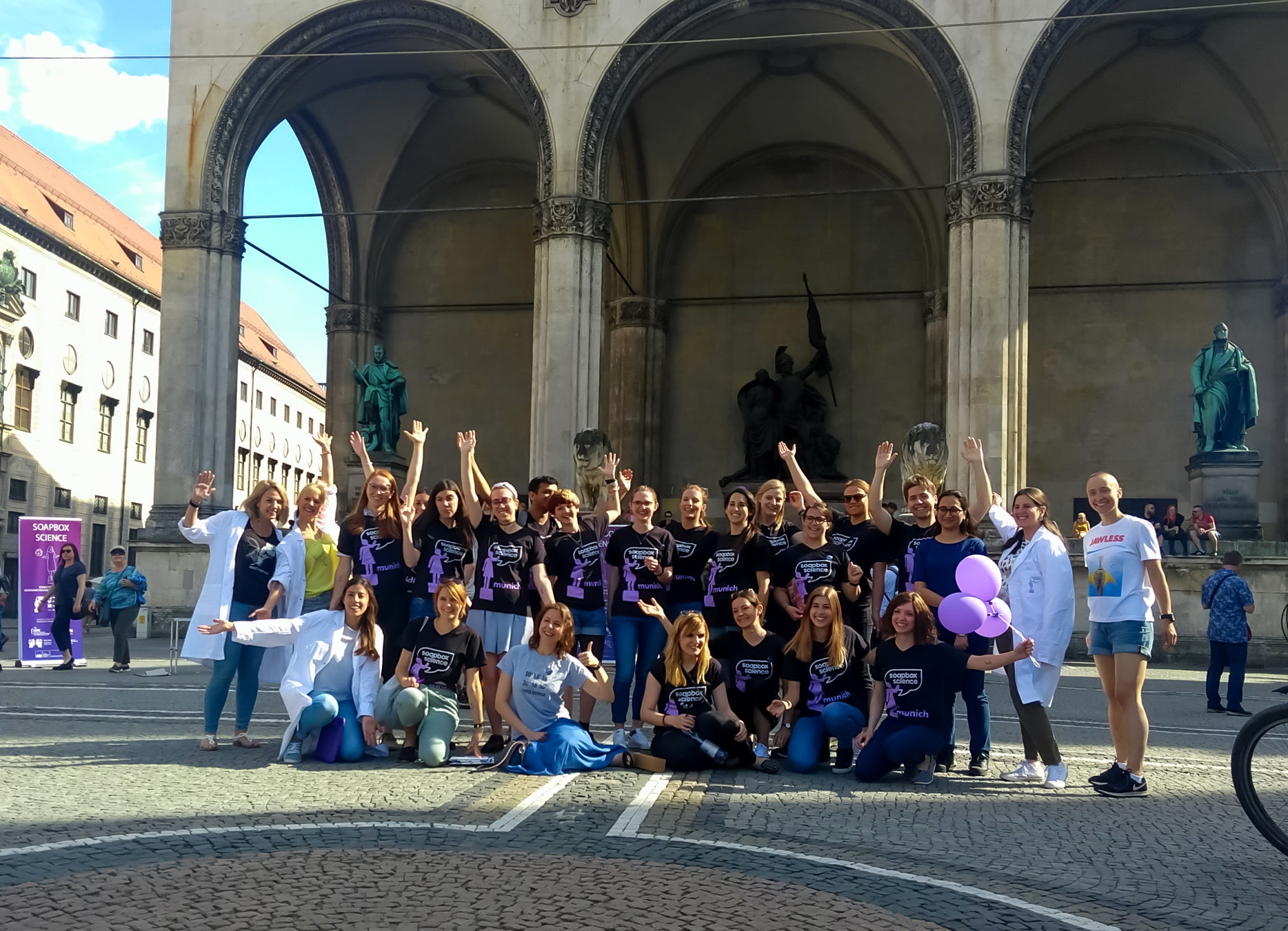 On June 1st, our master program students attended the Soapbox Science in Munich. It is a science outreach platform that takes over emblematic places in cities around the world and brings science to the streets. It promotes women scientists and the science they do. At the Odeonsplatz, 12 remarkable female scientists took to the stages and spoke about a wide range of scientific topics. More than 2000 people including children, elders, locals and foreigners attended.
Talking about fearless mice, broken hearts, fossils, robots, superconductors, ancient civilizations, climate change and biodiversity, scientists caught the attention of passersby at Odeonsplatz. Engaging narratives and simple terminology made people approach, stay, listen, and actively ask the scientists about techniques, methods and experiences in their scientific career. During the event, everyone had the opportunity to enjoy, learn and demystify several stereotypes about science, scientists, and especially about women in science. By the end of the day, the message was clear: Science is for everyone and there are incredible and passionate women doing research in every field of science and they are ready to share their experience with everyone.
The concept itself is a smart strategy, which surprises some. For how many times have you seen scientists in the streets talking about their research? First, it brings science to the people and not the opposite…showing that part of our job as scientists is to present science to people. Second, it highlights the contribution and participation of women in STEM. Thirdly, by the incredible reception of the event, and contrary to what is thought about the lack of interest of people in science, it shows we are all curious by nature.
Finally, the Soapbox Science showed that big scenarios and stilted speeches are not necessary to talk about science – small initiatives can make big differences- It is possible to succeed in our mission as scientists by approaching the public.
by Alejandra Gomez Correa