Geoscience Library
Geoscience Library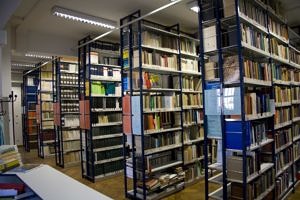 The library of the GeoZentrum is open daily. It is a reference only library, therefore volumes, magazines and maps are not available for loan.
The library offers:
Research computers (p.r.n. printers in the CIP-Pool)
Large format scanners (DIN A0 in CIP-Pool)
Study desks
New releases display
Interlibrary loan facility
The main library is nearby, around 100 meters away, at Schuhstraße 1A.
The main library offers:
Supervision
Ms. Gudrun Klein
Phone: +49 (0)9131 85 25976
Fax: +49 (0)9131 85 29295